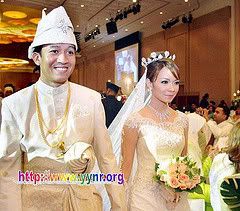 I CERAIKAN YOU! This is how the marriage between NORA DANISH and RIZAL ASHRAM ended up. Toh Muda Rizal Ashram Ramli, 38, stated the magic but excruciatingly frustrating words to NORA through phone, first in February and the second time on June 17 when she was pregnant. When asked by the Judge as to why it's TALAK DUA, RIZAL said it's the second time he has verbalised the words. But they are back together again after the first "CERAI" upon advice by an ustaz.
Terdahulu, plaintif (Rizal) memberitahu dia melafazkan cerai tersebut tiga hari sebelum ulang tahun kedua perkahwinan mereka menerusi satu panggilan telefon yang dibuat kepada Nora atas alasan mereka tidak bersefahaman lagi. Rizal yang kelihatan tenang mendakwa, lafaz itu dibuat pada pukul 3.30 petang ketika dia berada di pejabatnya di Sri Hartamas manakala Nora pula berada di rumah mereka di Jalan Rithcie, Ampang namun menafikan berlaku sebarang pergaduhan antara mereka sebelum itu.
I think this is the one of the most devastating thing that could happen to anyone. Marriage is a long winding road. I have to admit that it's not easy. I wish Nora all the best! Some of the high profile divorces this year were between Farah OIAM and Dr. Fariz and Farahdhiya & Datuk S.
Share on Facebook